Frequently Asked Questions
How do I tie my waist beads?
---
Please take a look at our helpful video that will guide you in tying your stands.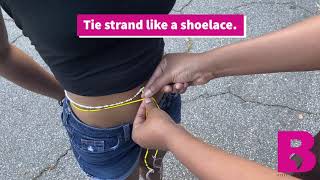 ---
How do I remove my strands?
---
Our stands are meant to be worn all the time, however if you're ready to take them off simply find where the knot is hold it and cut on either side. Make sure you have a bowl or bag to contain the beads to avoid spillage.
---
Will my strands break?
---
We use a high quality, stress-tested doubled string for all strands. We believe the universe calls you to tie them and also calls for when it's time to let go, whether that's by you cutting them or the strands popping. Either way know that the season for them is complete and it's time to set new intentions.
---
Will my beads fade/tarnish?
---
While we use the highest quality African, Japanese, Czech beads and charms it is normal to experience fading and tarnising. This is due to processing, continuous wear, and products the strands come in contact with as they adorn you.
---
Can anyone wear waist beads?
---
Absolutely. While rooted in African tradition, anyone can be adorned with waist beads as long as your intentions are pure.
---
Are your strands sanitized?
---
All stands are made in a clear, harmonious state of mind and sanitized work area to minimize the spread of negativity and germs. Upon completion strands are saged and sprayed with an all natural cleanser.
---
How long will it take for my order to ship?
---
All orders will ship within 10 days of your purchase. You will receive a tracking number once your order ships. Unfortunately, due to COVID-19 and delays within the postal system we cannot guarantee delivery dates and times.
---
---